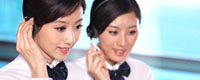 Tel: +86-571-88333448 85269120
Fax: +86-571-85043353
Mobile: +86-13857161965
E-mail: hzboho@hotmail.com
Add: Building 2, Jianding road 168,JiangGan Commnity 1,HangZhou City,Zhejiang Province,China
Skype: google_hack
MSN: hzboho@hotmail.com
QQ: 14231925





xiaoyuer web design studio founded in June 2006, by a group of experienced web page designers, the main provider of the company's Web site-building, shop building, personal website production, website maintenance, SEO, web promotion, web design training, product picture processing, domain name registration, foreign space, corporate offices and other services. Believe that our professionalism, integrity can provide you with quality services. Choose us, we will be better to do!
[
More
]